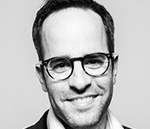 Guy Benzeno
 SCIL Profile Master
Guy Benzeno
Mobile: +352 621 613 726
http://www.CenterStage.lu
http://www.Public-Speaking.lu
Guy is the founder of Center Stage a boutique communications consultancy specialised in public speaking preparation and presentations skills training. Based in Luxembourg and working in both English and French, Guy helps people prepare their important speaking engagements and organisations upgrade their people's presentation skills.
As an improvisation actor and a member of Luxembourg's professional improv league since 2014 (GIPL.lu), Guy uses his experience with improv to mentor clients about stage presence, spontaneity, and storytelling.
As a pitching coach, Guy pushes startupers to make their ideas shine brighter.
Guy has extensive experience of events and onstage content development. As the former director of the Grand-Duchy's largest and most active business club, he has led the production teams for over 50 conferences and hundreds of speakers.
Guy can teach you how to talk so that people listen.
Available Services
• deliver corporate trainings in public speaking, presentation skills, voice training, interpersonal soft skills and business networking.
• Online Coaching & Trainings via Zoom meeting
• Individual preparation session for public speaking engagements or critical presentations
• Pitch coaching (investors, product, sales) and development of value proposition mapping
• Develop content and provides stage direction for corporate events
• Facilitate meetings and act as an MC in both English and French for both physical and virtual corporate events